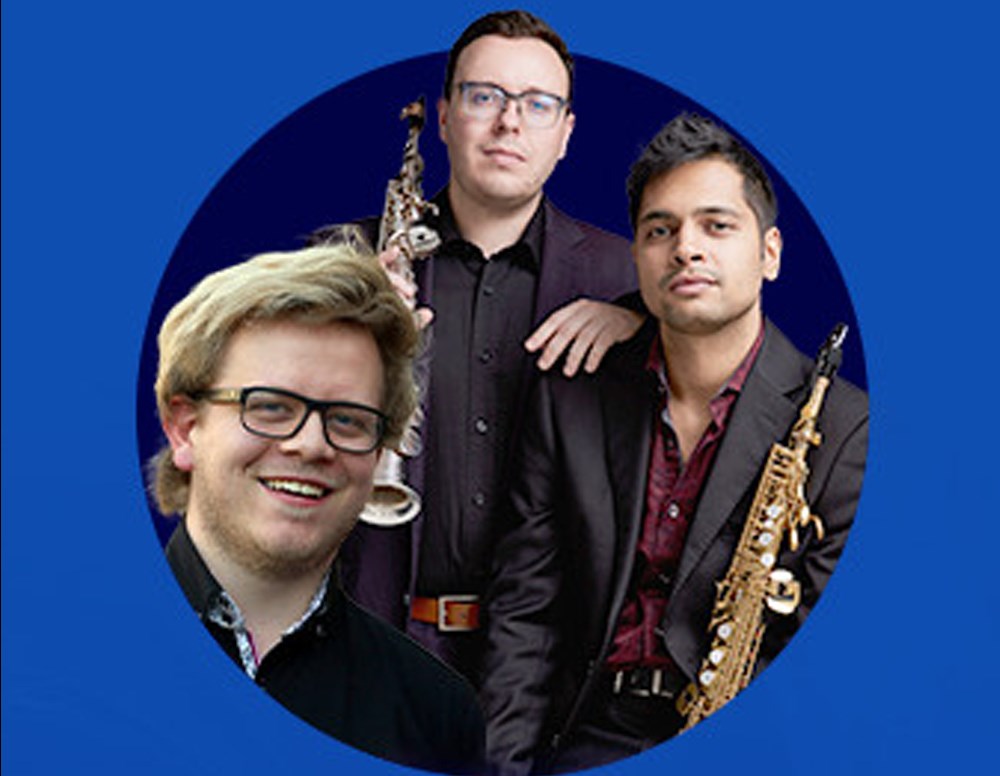 It's time to think saxophones when thinking classical music
The Prairie Saxophone Initiative kicks off its interprovincial Going for Baroque tour, which includes Saskatoon and North Battleford.
NORTH BATTLEFORD — Canada's newest saxophone duo will be touring major cities and towns across the Prairies July 5-17. Together, Matthew Robinson of Winnipeg and Chinley Hinacay of Saskatchewan hope to make the saxophone a household name in the world of classical music.
When you think of the term "classical music," the saxophone might be the last instrument you think of, but two up-and-coming musicians are trying to change that. Canadian saxophone duo, the Prairie Saxophone Initiative (PSI), will embark on their first interprovincial tour: Going for Baroque. The tour aims to raise awareness of the saxophone as a classical instrument and to allow young people to hear high-level chamber music for free.
"Growing up, none of us had a clue that the saxophone was a viable classical instrument capable of such expressiveness and virtuosity outside of the realms of pop and jazz," said Chinley Hinacay. , one of the members of the PSI. "I think a big reason why people don't correlate classical music with the instrument is because of the lack of representation in the genre. You always hear about violins, clarinets and trumpets being called in for solo or chamber performances, but never saxophone.
Saskatchewan's first recital will take place in Saskatoon on July 9 at 7 p.m. at Emmanuel Anglican Church in Saskatoon, followed by a 2 p.m. recital at Third Avenue United Church in North Battleford, where guest accompanist and colleague saxophonist Cole Knutson will join them.
General admission for shows starts at $20 with reduced rates for college students and free admission for youth under 18. All proceeds from this tour will go to PSI's annual composition project where Canadian composers from underrepresented groups are commissioned to write a substantial work for two saxophones. . Tickets can be accessed by visiting https://bio.link/prariesaxes
The interpreters
Chinley Hinacay
Chinley Hinacay is an accomplished young conductor and saxophonist, he is gradually becoming known throughout Western Canada. A graduate of the University of Calgary (M.Mus) and the University of British Columbia (B.Mus), Chinley is dedicated to cultivating Canada's musical potential and bringing the fine arts to light.
Chinley is currently artistic director of the North Battleford City Kinsmen Band and the Calgary Youth Wind Ensemble. Chinley has also conducted several ensembles in Calgary and the Greater Vancouver area as director, assistant conductor and guest conductor. These ensembles include the Calgary Wind Symphony, the Vancouver Youth Philharmonic Orchestra and the Vancouver Pops Orchestra. Chinley also acted as a former director of Red Deer College's Symphonic Winds and ensemble director of Shangyin School of Music.
In addition to conducting, Chinley is also an award-winning saxophonist, winning first place medals at the 2018 Canadian Music Competition and 2017 National Music Festival, won second place at the Friends of Music Competition of chamber and was a semi-finalist in the 2019 Stepping Stones competition. Employed as a clinician, performer and teacher across the Prairies, Chinley strives to maintain a high standard throughout his performances and teachings. He was tutored by some of North America's finest saxophone pedagogues and attended master classes by Kenneth Tse, Otis Murphy, Frederick Hemke and Tim Mcallister.
Matthew Robinson
Matthew Robinson holds degrees from the University of Manitoba (B.Mus.) and the University of British Columbia (M.Mus.) in saxophone performance. His accomplishments include winning the 2015 UofM Concerto Competition, the 2016 Adam N. Leckie Memorial Trophy, first place in the winds at the 2018 Canadian Music Competition Finals, and most recently first place in the American International Concerto Competition. Protected.
Matthew has performed as a soloist with the University of Manitoba Wind Ensemble and the Winnipeg Symphony Orchestra, as well as in venues across North America, including Carnegie Hall. Matthew is currently a performing member of the Winnipeg Wind Ensemble, the Exchange Quartet and the Prairie Saxophone Initiative.
guest performer
Cole Knutson
Cole Knutson is pursuing a doctorate at the Royal College of Music in London, in collaboration with the Oxford Lieder Festival. He is a recent graduate of the Masters Program in Piano Accompaniment at the Guildhall School of Music and Drama. Previously, he completed a bachelor's degree in classical saxophone interpretation.
Knutson has won the Delius Society Prize 2021, a component of the London Song Festival Competition, the English Song Prize 2020 at the Guildhall School of Music and Drama and the Oxford Lieder Young Artist Platform 2020.
In 2017, he received second prize at the National Music Festival of Canada after his debut at Carnegie Hall. He has received support from the Métis Nation Saskatchewan, the Sylva Gelber Music Foundation, the Art Song Foundation of Canada and others.
Knutson is the son of Leslie and Theresa Knutson of North Battleford.