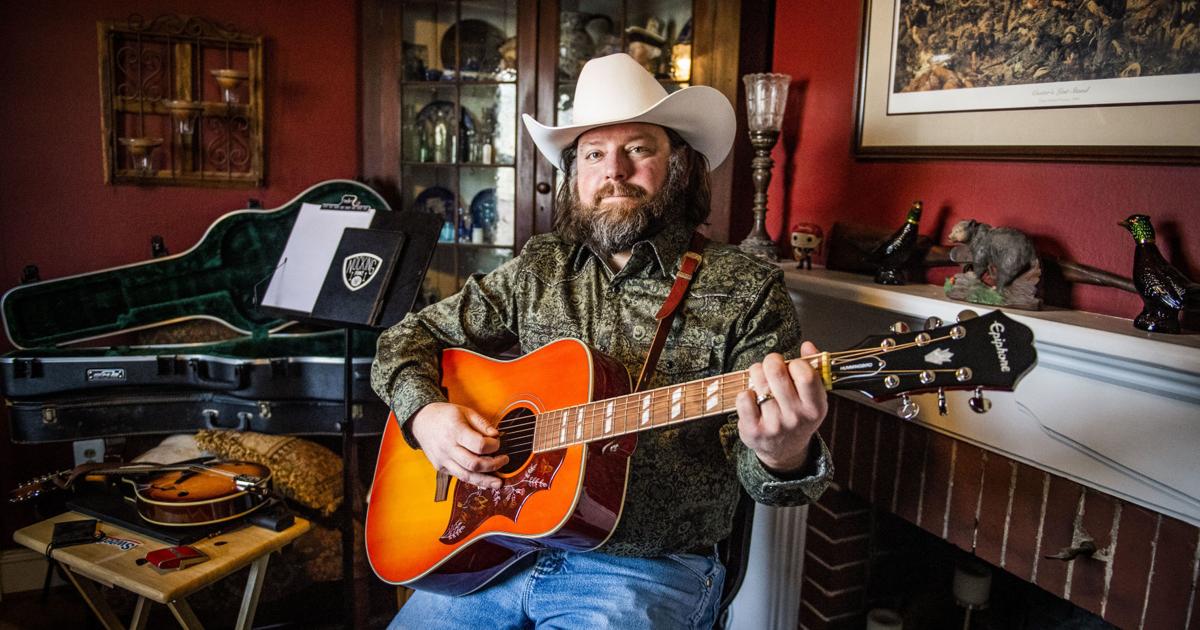 Walkersville Man Finds His 'Better Late Than Never' Country Music Beat | Culture & Leisure
Mike Kuster could not physically be there to support his wife as she worked as a nurse during the early months of the COVID-19 pandemic. Instead, he made music about it.
Now, nearly two years later, he releases his first country music studio album, "Better Late Than Never." One of the songs from the album, "Daddy's Blue Jean Jacket", was recently named the Independent Music Network's 2021 Country Song of the Year. Winners are chosen by fan votes, a radio poll, and IMN editors.
Kuster, 47, was surprised by the win. He had been told a few months earlier that he had been nominated, but he said that had escaped him.
Kuster got into music when he started playing the violin in fourth grade, which eventually led to him playing violin in a band in his teens and twenties. When the band's lead singer moved to Nashville, Kuster continued to play locally for a while, mostly at private functions and community festivals.
He quit gaming around 20 years ago when he had kids and started his business, computer/computer repair company Digital Age Solution.
"It was just too much at the time, and there's not a lot of money in music," he said.
He became inspired again in 2020 when his wife, Emily, worked at Frederick Health and his floor became one of two "all-COVID-19" units in the hospital, where not even janitors or food service workers weren't allowed, Kuster said. He described his wife staying alone in their master bedroom and rarely interacting with the rest of their family during those early months of the pandemic.
"It was a nightmare," he said.
He wrote the song "The Covid Floor" about his wife's work experience while staying home in Walkersville with their three children.
"I had more time, so I was writing music and playing [guitar]", Kuster said. "It could be any healthcare worker's experience in the first few months, especially when no one really knew what was going on."
His daughter, Kate, suggested he put 'The Covid Floor' on YouTube, where he said he had received a great response – so much so that he decided to record a demo.
Even though Emily was able to interact more with their family, Kuster continued to write. "Daddy's Blue Jean Jacket" was inspired by Kate enjoying older vintage clothing, including an old ripped denim jacket that belonged to Kuster. He said he used to tease his daughter about how much she liked wearing the jacket. "The collar barely hangs down from the rest of the coat," he laughed.
Since Kate and her twin brother were born near 9/11, Kuster said he linked it to "Daddy's Blue Jean Jacket," which is about a girl who wears the jacket of her father who died during the war in Afghanistan. .
The song was originally going to have a lighter subject matter regarding his own daughter, but Kuster said he shifted gears thinking about what would motivate a girl to wear something that belonged to her father. It made him think of the year of birth of his twins.
"It changed everything, and everyone is tied to it," Kuster said of the events of 9/11.
After posting some of his music on Spotify, Kuster said he heard of a Nashville producer who wanted him to record a 12-song album.
This album is "Better Late Than Never", for which Kuster wrote all the songs and is the lead singer.
He recorded them with Nashville-based musicians, although most of his recordings were made in Frederick and downloaded and mixed with the rest of the material in Nashville. Musicians would collectively send files back and forth and review notes during Skype calls.
"We'll give notes, like 'I want this to sound like a Brooks & Dunn song,'" Kuster said. "We'll mess around until it's good."
They've been recording about one song per month starting in December 2020, and the album is available to stream on iTunes, Amazon Music, Spotify, and Bandcamp. The CD is expected to ship around February 22 and can be purchased through mikekuster.bandcamp.com.
Kuster said he has no plans to tour or be a full-time musician, but he hopes to continue making and releasing music, as well as doing a few shows. He mainly focuses on country music because he grew up on a farm, that's all he ever knew. It wasn't until he heard someone talk about Prince while he was in middle school that he knew another kind of music existed.
He did a few covers of pop songs, but they usually sound like country music anyway.
"That's exactly what I do."